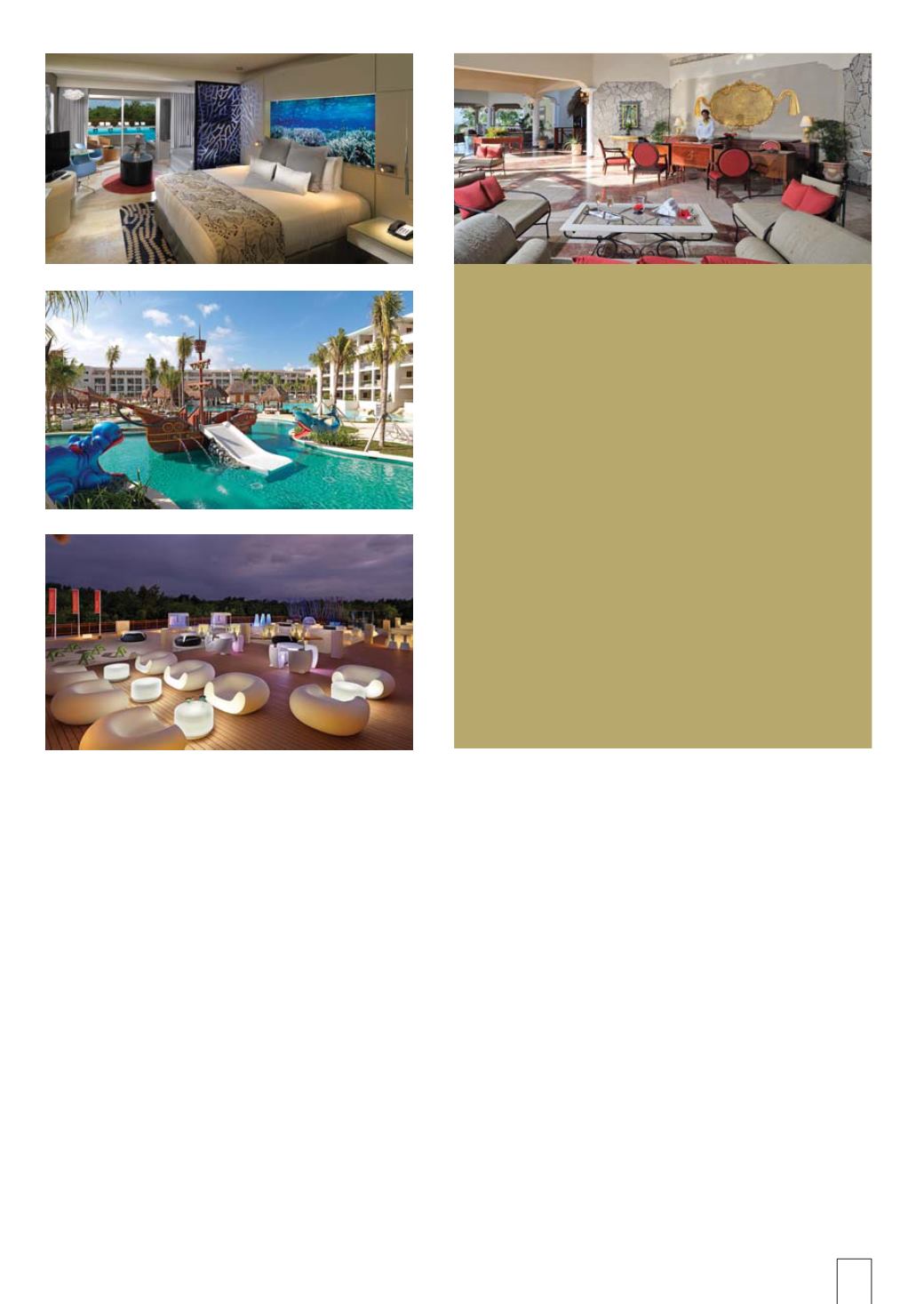 All Paradisus Resorts offer the opportunity to upgrade
to Royal Service, an option that truly goes beyond your
expectations. Fromyour private check in, when you are
presented a mobile phone to reach your personal
butler when needed, to the lavish suite
accommodations the Royal Service offers countless
benefits to ensure that your stay is absolutely
unforgettable: upgraded amenities, personalised turn-
downservice,pillowmenu, inroomJacuzzipreparation,
daily newspaper delivery, in-room coffee service,
minibars stocked daily to suit your preferences as well
as preferential reservations at theYHI Spa, activities and
excursions not to mention the private Royal Service
pools and beach areas with valet service and an a la
carte restaurant andVIP loungewhere evening cocktail
and hors d'oeuvres are served in the evening.
A unique lush all inclusive experience
Located on the soft white sand beaches of Cancún, a
holiday favourite destination, and only a mere 15 minute
ride from the airport and from downtown Cancún, this
magnificent resort provides an exclusive experience
within its exceptional facilities that encompass nine
restaurants and seven bars focused on the highest
quality food, also including a fine dining restaurant,
Tempo, by celebrated Michelin Star Chef Martín
Berasategui. The resort boasts four lagoon–inspired
pools, and offers a variety of activities such as tennis, golf
in its nine – hole par 3 golf course, a Kids Club and a YHI
Spa to ensure that your holiday is truly unforgettable.
Where natural beauty meets superior service.
Luxury Junior Suite, Paradisus Playa del Carmen La Perla
The Paradisus Brand includes properties in three different
countries, includingCubawhere the Paradisus RiodeOro is
located on the northern coast of Holguin. This adults only
property, situated right opposite a stunning coral reef,
surrounded by some of the most beautiful beaches in the
Caribbean and integratedwith the tropical forest, offers the
most exclusive service whilst in direct contact with nature.
The Rio de Oro includes eight speciality restaurants and
nine bars offering fine cuisine to ensure a unique
gastronomic experience.The resort alsooffers aYHI Spa and
a wide range of outdoor activities and water sports to be
practised inwhat Christopher Columbus once described as
"the most beautiful land that human eyes have ever seen".
These are only a few options that Meliá Hotels International puts at your disposal. Withmore than 350 hotels in 35 countries and four continents, the Spanish
hotel chains caters for all travellers under its eight brands: Meliá, Gran Meliá, ME by Meliá, Paradisus, INNSIDE, TRYP by Wyndham, Sol, and Club Meliá.
Kids pool at Paradisus Playa del Carmen La Esmeralda
Adults Only "downtime" at GabiClub, Paradisus
Playa del Carmen La Perla
Private check-in at Paradisus Rio de Oro