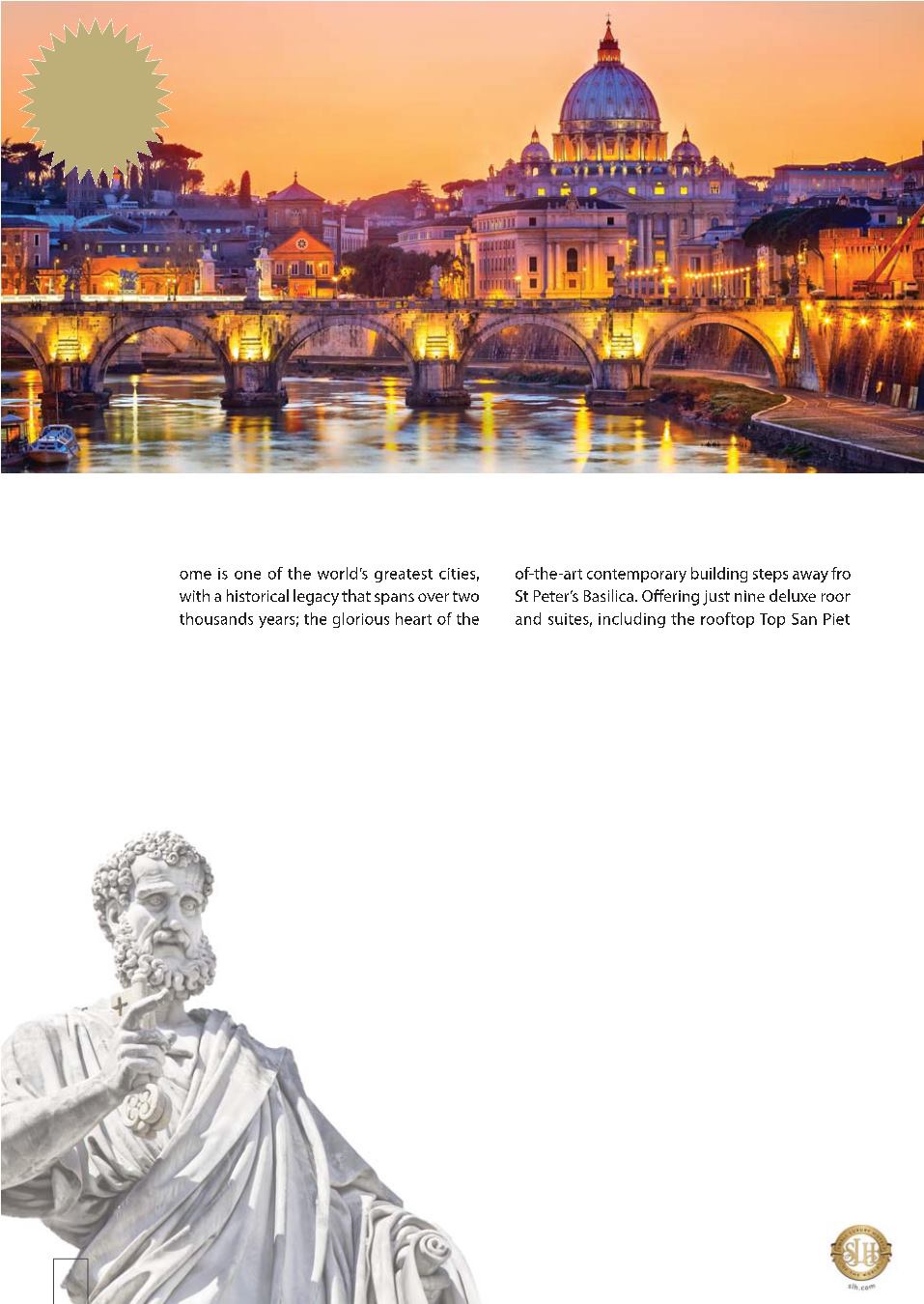 ome is one of the world's greatest cities,
with a historical legacy that spans over two
thousands years; the glorious heart of the
ancient Roman Empire, a great Renaissance centre,
headquarters of the Catholic Church and most
recently the hectic capital of a modern and
vivacious Italy. It is a place to be savoured, explored
and enjoyed certainly more than once in a lifetime.
Of course when it comes to staying in the
Eternal City, there are some very grand
hotels, but for a more privileged
experience with an emphasis on
customised, luxury hospitality, there
is now a very exclusive address at
the very edge of the Vatican City,
Representing the first of a number
of prestige openings in prime
locations across the centre
of-the-art contemporary building steps away from
St Peter's Basilica. Offering just nine deluxe rooms
and suites, including the rooftop Top San Pietro
Suite with its dramatic views onto St Peter's as well
as a very private terrace with a sumptuous
outdoor jacuzzi pool, this is a hotel that will thrive
on a deep understanding of the individual needs
of its guests and how to maximise their enjoyment
of the city. In due course guests will also have the
choice of two further boutique properties,
At each property choice and comfort start at the
guests' point of arrival with complimentary luxury
transfers to and from train stations and airports
within Rome. This is continued throughout the stay
with a complimentary 24-hour chauffered service in
Rome or, for the more spirited, free usage of either
a Vespa 50 moped or Rome's favourite little car, the
Attention to detail is mirrored within the hotel, with
private butler service and guest roompre-selection
from a range of deluxe top brand toiletries, pillows,
sheets and the contents of roomminibars. Modern
appliances including a 52"flat screenTV, Nespresso
Coffee machine and two Ipad 3 tablets per room
add to the comforts. All that remains is to immerse
oneself in Rome and... "La Dolce Vita".
A very special way to experience the Eternal City at L'angolo di San Pietro.