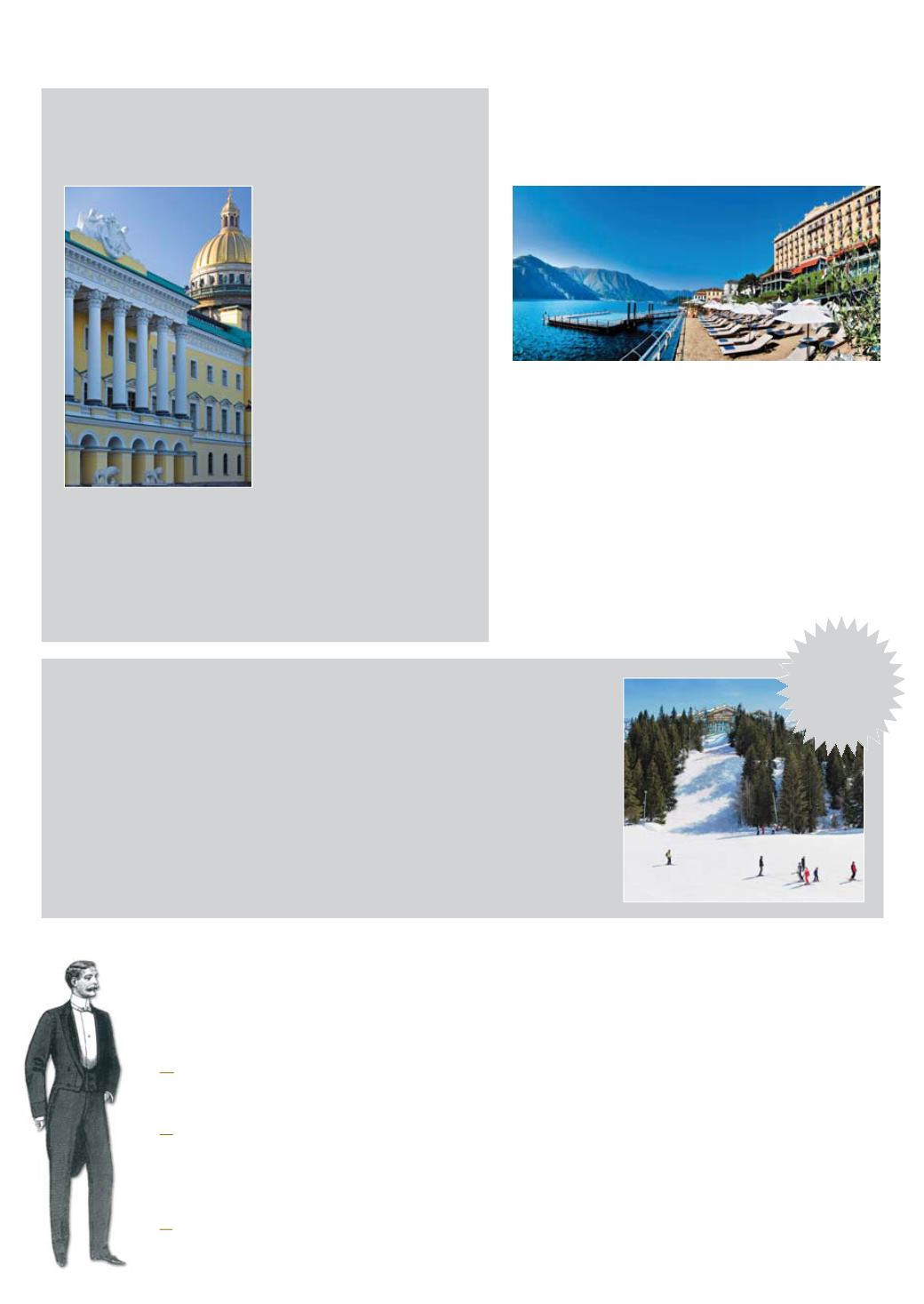 European & Mediterranean News
Situated in the heart of the French Alps and boasting an outstanding "ski-in ski-
out"location and breathtaking views of Courchevel Village; L'Apogée Courchevel
is the newest masterpiece of the Oekter Collection. The resort will comprise 33
bright and beautiful suites, 20 spacious double rooms, a detached 5-bedroom
chalet and a spectacular penthouse, all offering spectacular views of the slopes
and village. All accommodation will be contemporary in style with state-of-the-
art facilities. The restaurant, Le Comptoir de L'Apogée, is a luxury brasserie under
the supervision of two Michelin-starred Chef Yannick Franques serving French
artisanal cuisine, with a chic and modern twist, in a relaxed environment.
L'Apogée Courchevel, the new jewel of the French Alps
Dating back to 1910 and Art Nouveau in style, the family
owned Grand Hotel Tremezzo commands one of the
most enchanting positions on Lake Como with
spectacular panoramic views of the town of Bellagio, the
Riviera delle Azalee and the stunning Grigne Mountains.
The hotel has a beautiful table for 2 in a corner of the
garden which is wonderfully secluded with fantastic
views of the lake. This table, named 'Dis Moi Oui', is
famously booked by a number of couples looking to
propose in one of themost romantic spots on Lake Como.
Grand Hotel Tremezzo, Lake Como, a
beautiful place where "No" is unacceptable
Four Seasons Hotel Lion Palace, St
Petersburg ...a stunning achievement!
Winter Palace and Hermitage
Museum, the House with the
palace of Princess Lobanova-
distinctive triangular layout
adjoins St. Isaac's Square,
home to the famous St. Isaac's
Cathedral, designed by the
same architect – Auguste de
Montferrand. The palace has
been carefully restored, and
protected areas. The hotel
offers 183 spacious and comfortable guest rooms, including
26 suites, featuring state-of-the art amenities to satisfy the
needs of the most discerning customers. Dining in the hotel
is led by Michelin-starred Executive Chef Andrea Accordi,
and the options include glass-roofed Tea Lounge, signature
Italian restaurant Percorso and Xander Bar with live fire place.
Dealing with emergencies and unforeseen events are fundamental reasons to ensure that you
have adequate protection and insurance at the time of booking and whilst taking a well-earned
holiday. Good travel agents and tour operators will give you security through:
TOL
:
Air Travel Organisers Licence. The scheme protects you from losing money or
being stranded abroad when a travel firm goes out of business.
onding
:
Check that your travel provider has membership with an approved body such
as ABTA; the Association of Bonded Travel Organisers Trust (ABTOT); the
Association of Independent Tour Operators (AITO); or the Federation of Tour
Operators (FTO)
over
:
You should, however, always ask your travel company if financial protection
applies to ALL your travel arrangements. If it doesn't, the company may be
able to offer suitable insurance to cover you.
...the ABC of protected travel arrangements