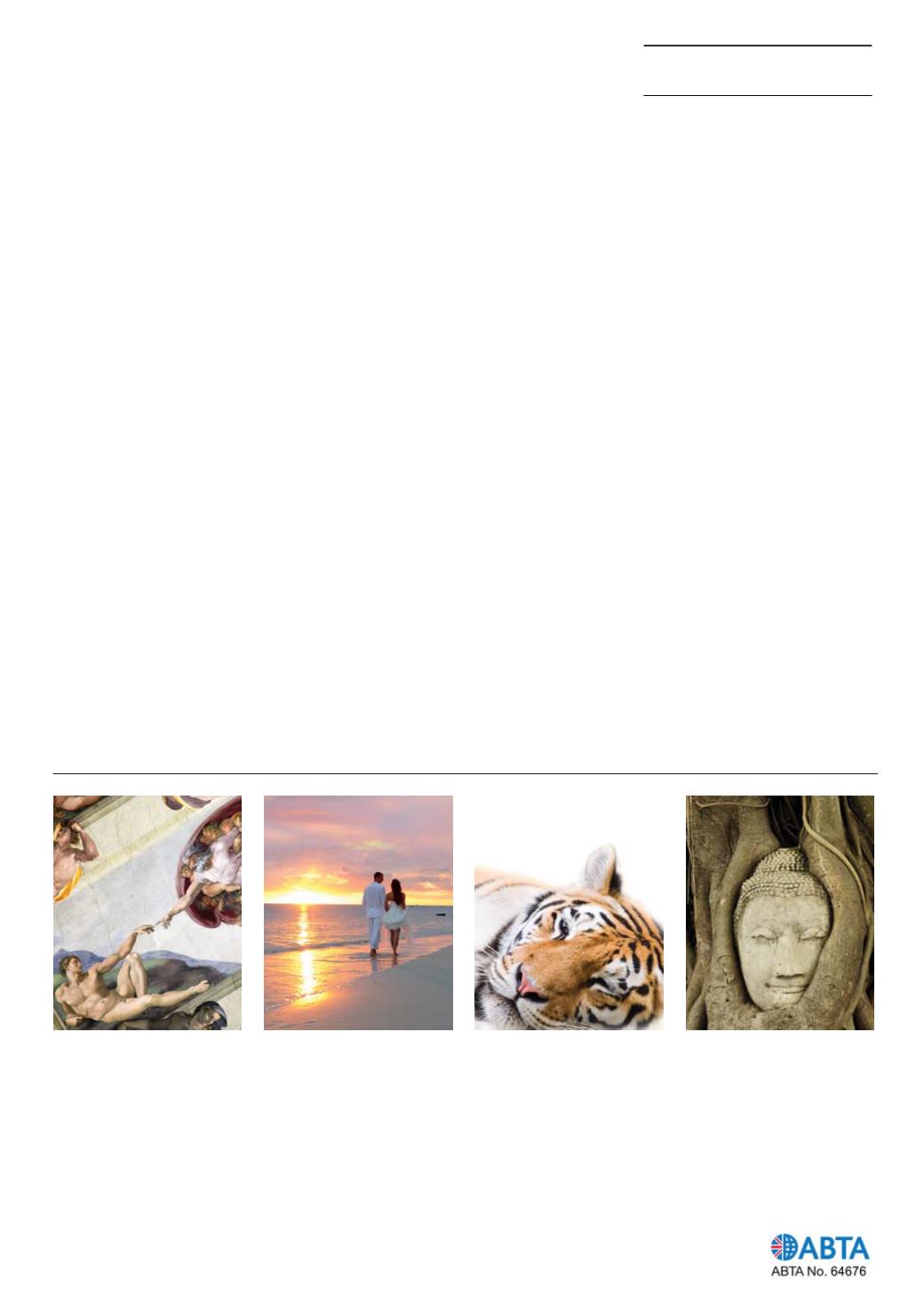 28 London Road, Alderley Edge
Welcome to the latest issue of our regular travel
magazine. As the long nights close in we recommend
that you draw inspiration from the following features
when considering future travel plans.
Perhaps a long weekend or two to a classic European
city will help to soften the course of the winter. In this
issue we visit both Athens and Rome, two of the truly
classical capitals of Southern Europe.
The spectacle of India is at its very best when touring
the Royal cities of Rajasthan, but for those who want to
broaden the experience then why not consider
combining the traditional circuit with a visit to one or
more of the tiger reserves and national parks of the
neighbouring state of Madhya Pradesh.
For a truly wilderness journey we are delighted to
showcase expedition cruising with Silversea in
Antarctica, an amazing opportunity to retrace the steps
of polar explorers, but with the comforts of a modern
day luxury cruise ship specially designed for the region.
Classic beach resorts across the world offer
opportunities to escape to the sun all year round and
this issue offers a diverse selection to consider from the
Caribbean to the Indian Ocean. For those wanting a bit
of adult sophistication or a romantic retreat you will
find some great options in Cyprus, Mexico and
Whether you are looking for a"trip of a lifetime", awinter
sun getaway, a luxury city break or just news on some
of the world's finest hotels and resorts we are sure this
issue will interest you, so sit back, have a read, then give
us a call to discuss your next holiday.
Published by Travelspeak Limited - 020 8944 6050 - www.travelspeak.co.uk
3
European News
4
A Cultured City
6
La Dolce Vita
8
Adult Pleasures
10
Magical Settings
14
Taj, Tiger Trails & Beyond
16
The White Continent
18
Asian Discoveries
20
Beachfront Lifestyle
22
World News
12
Mexico Lindo