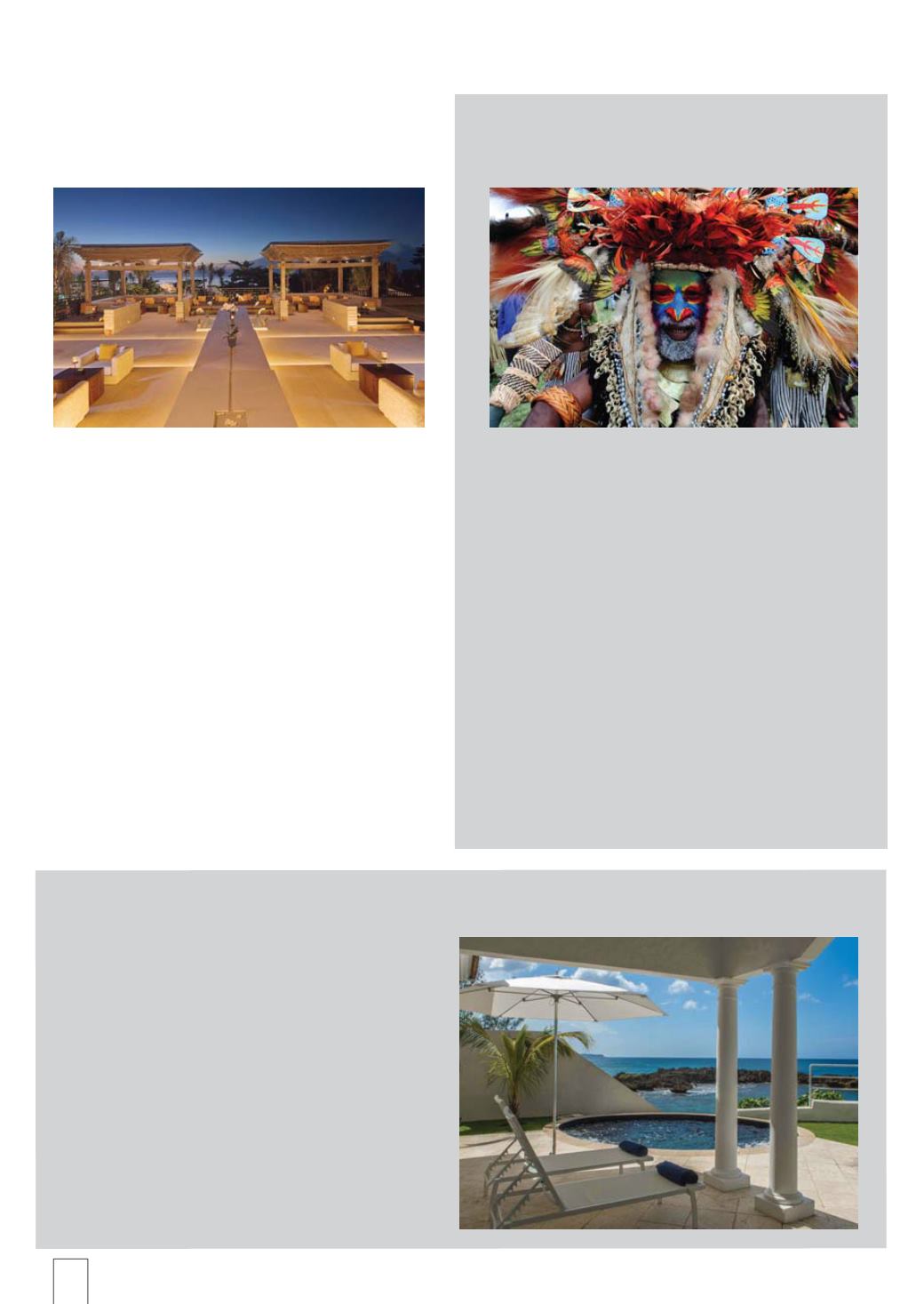 Port Antonio is still the very much place to head to if
you are looking for the classic Jamaica that made the
area a celebrity haunt of the 60's. With its sprawling
verdant green vegetation and rocky outcrops that slide
seamlessly into the crystal blue waters of the Caribbean
it is the perfect setting for a special Caribbean hotel.
Epitomising laid-back luxury and quintessential cool,
the Trident Hotel features 13 spacious studio, one- and,
two-bedroom villas with state-of-the-art room
amenities as well as private, heated plunge pools and
terraces overlooking the sea. The hotel, which was
creatively refurbished by music mogul owners Jon
Baker and Steve Beaver, offers its guests a truly sublime
A slice of 60's mojo with a twist of modern at Trident Hotel, San Antonio, Jamaica
Situated in the exclusive Sanur District; where the
spectacular coral reef is complemented by picture-
postcard swaying palms, white sandy beaches and
tempting turquoise waters, the newly opened Regent
Bali is the place to relax on the"Island of the Gods".
There are 94 suites including Deluxe and Premier
classes with their own private spa treatment rooms.
There are also 25 two- and three-bedroom residences
to choose from, but undoubtedly the most luxurious is
the two-bedroom beachfront villa, which comes
complete with private pool, Jacuzzi and butler service.
The hotel includes its own 55-metre infinity pool, a spa
that specialises in Balinese massages and unique
treatments. Nearby attractions include the Gunung
Kawai Hindu Temple, Batur Mount Volcano, Ubud Art
Village and some of the country's most picturesque
Relax in the most picturesque
setting at the Regent Bali
Silversea to explore the remote islands
Silversea's loyal following of adventure travellers can
now explore the remote archipelagos of the vast
Pacific aboard the sleek, 128-guest
She's the perfect platform for viewing these untamed
landscapes, with all ocean-view suites and plenty of
deck space so that a breaching whale or a pod of
dolphins is always within sight. Her shallow draft
allows her to navigate closer to shore, and with a fleet
of 12 Zodiacs and a glass-bottom boat, guests can
land on isolated shores and explore wetlands and
submerged ecosystems, up-close and in-depth.
routes of ancient seafarers to some of the most
isolated ecosystems of Southeast Asia, Australia,
New Zealand, Micronesia, Melanesia and the Russian
isaxar/shutterstock.com